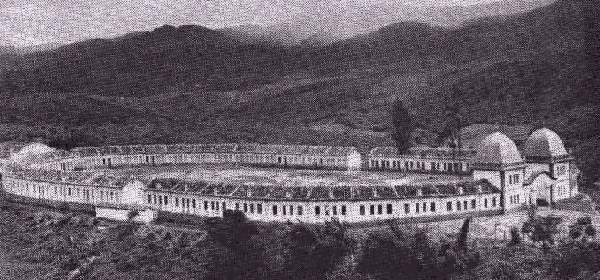 Pilgrimage photo in the Sixties.
The Pilgrimage was used as a shelter to the poor which, since 1770 came to Congonhas every year between the dates of September 7th and September the 14th, in order to attend the festivities of the Jubilee of The Lord Good Jesus of Matosinhos.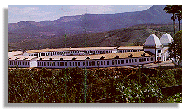 The Pilgrimage was built towards the end of the Palmtrees Lane, during the first years of the Thirties. It as an Inn, made up of several lower houses closing in a circle around a very large Courtyard. To lodge in the shelter each family was supposed to pay "five thousand reis" for the whole duration of the Jubilee. This amount was considered pretty reasonable to any family, then.

Discontinued in the early Sixties by the Sanctuary Management, the building ended up being sold to an entrepeneurial Group from Rio de Janeiro that planned to run a hotel at the location.That however never came to pass. From the original construction, demolished in 1968, only two towers, linked together by an arch making up its entrance gate are left now.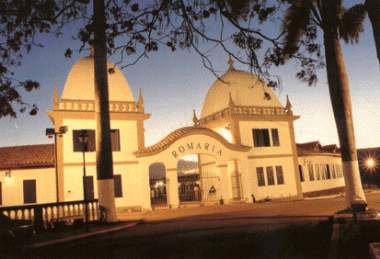 Entrance Gate of the Pilgrimage Today.
In 1993 City Hall salvaged the piece of land with the remainings of the old Pilgrimage. The gate was restored in 1994 and in an area of 53 thousand square meters the new Pilgrimage was erected, keeping the very same architectural characteristics of the old Inn, inspired by the Chapels of the
Steps of the Passion architecture, which dates back to the XVIII Century. It was properly dedicated on July 30th, 1995. Since its dedication it has been a large facility aiming at prserving Congonhas' History, Culture and the Arts, plus leisure and tourism. There you will find the following: an Extension of the Mayor's Office, a Formal Hall for Special Occasions, and shops for the Arts, also serving as an
Exhibition Hall - Headquarters for FUMCULT, plus SERVASC's (Voluntary Services for Social Assistance of Congonhas) Souvenir and Gift Shop; another Hall seating 60; Mineralogy Museum with rooms for studies and research; Sacro Museum and Memory Museum, in addition to a room dedicated to the Portuguese town of Matosinhos. There is one tourist and information booth just at the entrance of one of the original towers.

The Pilgrimage is fast becoming a place for social gatherings and stage performance of prime shows, such as the Moonlight over the Pilgrimage.
| | |
| --- | --- |
| | A good hint is to enjoy a late afternoon sipping of a draft beer at the luncheonette of the Pilgrimage. |